PaaSage for Public Services
By Frode Finnes Larsen, VP Products EVRY Norway
As one of the leading knowledge businesses in the Nordic region, EVRY has the answer to the digital challenges faced by our customers. EVRY possess the insight, expertise and concepts needed for them to complete their digital change journeys. EVRY has now invested to ensure this transformation provides our customers with the greatest possible digital advantage. We call this focus Digital Advantage.
With almost 10.000 employees, EVRY delivers daily IT services from 50 Nordic towns and cities for several thousand public and private sector customers. Changing the life of millions of Nordic citizens and industry for the last 50 years by accelerating the digital transformation.
EVRY has developed a use case for public sector and human milkbanks to verify PaaSage technology.
Challenge
There are 12 milkbanks in Norway, 28 in Sweden, 17 in Finland and over 200 in total in Europe. The need and potential on world basis is huge and many banks are not established because of lack of knowhow, systems and processes. Full traceability from milk donor to infant is critical. Good routines at the hospital is necessary as well as an efficient way on invoicing and payment to donors.
Today this is often manual routines, done with simple spreadsheets or not done at all. The pilot developed in Norway can potentially be rolled out to hundreds of milk banks other parts of the world. In Norway we have today 12 milk banks. In US and Canada together there are only 19(!) One of the reason for this low number is security concerns and complexity. The milk bank use case want to solve this. This solution could also potentially be used to donate other kinds of fluids.
In order to roll out the Milkbank solution in a larger scale in different regions EVRY need to handle multiple infrastructure and cloud vendors. Different health authorities and countries have different preferences on infrastructure and location, due to laws and regulations, frame agreements, etc.
Solution
The milk bank solution is built as a true cloud application with support for multiple languages. From a technical point of view, we are talking about private or community cloud, UI for the laboratory workers, data register, data exchange and integration. Hand held units and potentially self-service on mobile. Also easy rollout to other regions. The application is based on Microsoft technology.
Even though the milkbank is a standardised yet customisable cloud solution, it can be deployed to the cloud provider and location preferred by the customer. Cloud management and deployment is handled by PaaSage. This guarantees that the cloud infrastructure always will comply with security and other requirements, at the same time enables EVRY to have an efficient operation of multiple milkbank over different regions.
The milk bank is developed together with pilot milkbanks in Norway.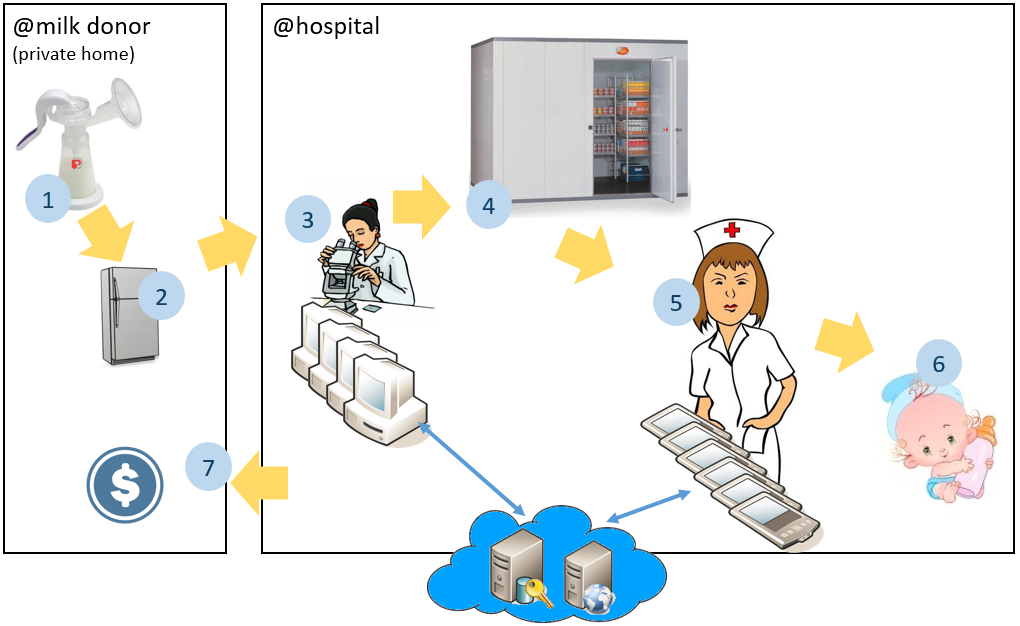 Benefits
Milk bank has simplified, increased traceability, increased security and increased collaboration for the human milk banks. The milk bank collects milk from mothers that has the ability to produce more than needed in order to give to mothers that not are able to produce enough or at all.
With PaaSage, we are able to model the total architecture of our managed service for the milk banks. Helping us to develop the application once and deploy it cross-cloud. Managing the solution like it was deployed to one single cloud.